How to Bounce Back
November 16, 2019 @ 10:00 am

-

12:00 pm

$25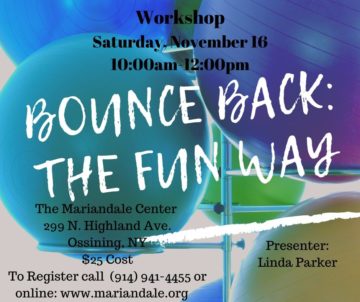 We all get sidetracked, or perhaps even broad-sided by life at different times. Layoffs, transitions, loss of loved ones, injuries: It's no fun to get knocked down, or to feel "stuck" after the blow of a setback.
In this workshop, we will be reminded of the tools available to us all to lighten up circumstances and gain forward movement again. We will experience the health benefits of laughter yoga, walking mindfully in nature and moving to sense joy and fun that is nourishing for your soul.
After moving energy around and letting go, we will spend time to create an artistic expression of your experience as a memento to take home to remind yourself to follow your joy!
Date & Time: Sat., Nov. 16, from 10am to 12pm
Presenter: Linda Parker
Fee: $25
About the Presenter:
Linda Parker holds a B.A. in Exercise Science and many past certifications including, including Certified Holistic Health Coach, CHEK Fitness & Lifestyle Coach, Nia Technique® and HoopnoticaFit Instructor and Laughter Yoga Leader. She is a student of life driven by an insatiable appetite for personal development, spiritual growth and discovery to live her life's purpose and to inspire others to do the same. Her background also includes over 20 years of executive administrative support in the corporate world, lifelong experience and education in the fitness and wellness fields and an entrepreneurial, creative spirit. She is the Chief Exploring Officer, Founder & Creator of Soulistic Adventures, LLC.