Guy Davis – Bluesman
June 9 @ 7:30 pm

-

9:30 pm

$20.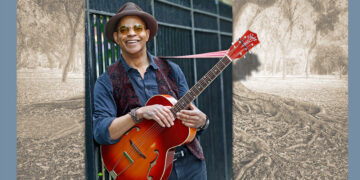 A two-time, back-to-back Grammy nominee for Best Traditional Blues, Guy Davis has been called "America's greatest link to the blues right now." He won the "Keeping The Blues Alive" Award and was nominated by The Blues Foundation for Best Acoustic Album of the Year, Best Acoustic Artist of the Year, and Best Instrumentalist.
A musician, actor, author, and songwriter, Guy uses a blend of Roots, Blues, Folk, Rock, Rap, Spoken Word, and World Music to comment on and address the frustrations of social injustice. His performances feature a mix of his original songs and cover songs by Muddy Waters, Pete Seeger, Bob Dylan, Leadbelly, Blind Lemon Jefferson, and many others.
Of his album, Kokomo Kid, Chris Spector of Midwest Record wrote, "With the acting chops this cat has running through his veins, is it any wonder he can sell anything and make it look easy? A modern, down-home acoustic blues set as inspired by his parents as it is Pete Seeger, as it is the storytelling tradition, this is a sucker Sunday punch that'll have you on your back before you know what hit you."
Guy has been featured in numerous articles and reviews. When asked about his experience as a performer, Guy replied, "There is no tale so tall that I cannot tell it, nor song so sweet that I cannot sing it."
Related Events