Genetic Counseling And Testing For Breast And Ovarian Cancer
November 9 @ 8:30 pm

-

9:00 pm

Free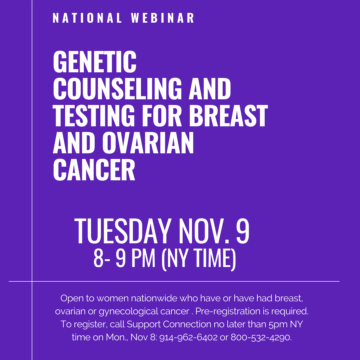 A free program presented by Support Connection, Inc. Open to people nationwide who have or have had breast, ovarian or gynecological cancer. Pre-registration is required. To register, call Support Connection no later than 5pm NY time on Mon., Nov. 8: 914-962-6402 or 800-532-4290.
Presented in partnership with White Plains Hospital. This educational webinar will focus on genetic counseling and genetic testing as pertains to breast and ovarian cancer. Topics will include: Who should undergo genetic testing; The genetic testing process; New updates to genetic testing; What to do with test results; Myths and facts; Case examples; Discussing genetics with relatives/family members; Question and answer period.
SPEAKER: Nicole Boxer, MS. Certified Genetic Counselor at White Plains Hospital Center for Cancer Care, White Plains, NY, where she specializes in genetic counseling for hereditary cancer syndromes.