Finding Serenity: Guided Forest Bathing Session in Blue Mountain Park
December 11, 2022 @ 10:00 am

-

11:30 am

$30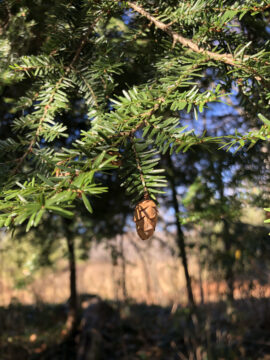 December can be a hectic time of year! If you're in need of some quiet, stillness, and serenity in the midst of this holiday season, join us for some nature therapy as we immerse ourselves in the forests of Blue Mountain Park in Peekskill, NY (just over an hour north of NYC).
We'll explore the forest and connect with nature through a slow-paced, easeful sensory exploration based on the Japanese practice of Shinrin-yoku ("forest bathing"). Decades of studies have discovered a wide range of health benefits associated with this practice, including stress relief, better sleep, lowered blood pressure and inflammation, and improved immunity.
Your trained and certified guide will lead the way, offering optional invitations designed to help you step into your own authentic way of being in the outdoors.
When we intentionally slow ourselves down and awaken our senses, we can find a sense of connection with parts of ourselves and the natural world that we may not have even noticed we were missing.
All are welcome. No special skills or equipment required. We'll cover under 1 mile in distance total, taking plenty of seated breaks along the way for our invitations. Consider this a mini-retreat for the mind, body, and soul.
Visit www.ForestBaths.earth to learn more.
"Forest therapy walks are so regenerative and soothing. I feel genuinely destressed, energized, and in a better mood. Additionally, Fru is an amazing guide! She is very welcoming and fun and made it easy to relax into the experience." — Past walk participant
🌿 🌲 Come and sit — we will hold space for you. 🌲 🌿
Related Events