Dynamic Jazz duo Pete Malinverni and Gary Smulyan at WCT's Music in the Box Series in Ossining May 28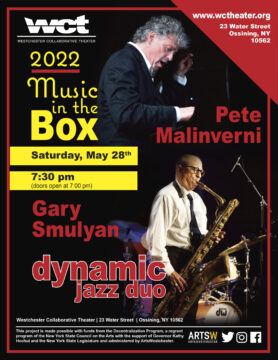 Ossining, NY – On Saturday, May 28, the Music in the Box Series of Westchester Collaborative Theater (WCT) will offer a performance of Westchester based pianist Pete Malinverni and Hastings-On-Hudson sax player Gary Smulyan. The cabaret-style performance begins 7:30 pm at WCT's black box performance space at 23 Water Street in Ossining. Tickets are $30; cash bar and refreshments available. Purchase tickets online at: https://wctpresents-maliverni-smulyan.eventbrite.com
About Pete Malinverni
Pianist, composer, educator Pete Malinverni has been a fixture on the New York city jazz scene since moving there in the early 1980s from his hometown of Niagara Falls NY, where he'd begun. Classical piano studies at the tender age of 6.
Since moving to NYC, Pete has recorded sixteen times as a leader, including in solo piano piano/violin duet, trio, quartet, quintet, big band and choral contexts. Al of his recordings have been received by critics and the public alike and have received heavy airplay on all platforms, from the radio to the internet.
Throughout his time in NYC, Pete has established performing, recording, and inspirational contact with a host of masters on the scene including Joe Lovano, Vernel Fournier, Charles Davis, Mel Lewis, Karyn Allison and many others.
These collaborations have happened in studios and stages like Carnegie Hall, the Caramoor Festival. The Piccolo Spoleto Festival and the Rome Music and Image Festival. Pete has also played at NYC's great jazz clubs such as the Village Van guard, the Blue Note, the village Gate, Bradley's and Smalls.
About Gary Smulyan
No matter who he is performing with- or whether he is leading his own band at the time- Smulyan brings to the stage the spirit, style and savvy of a deep-toned master of bebop. "Gary Smulyan's lineage comes more from musicians like Cecil Payne, Leo Parker, Pepper Adams, Serge Challof and Nick Brignola- the few baritonists that dared to master the tricky chromatic music known as beebop" wrote All About Jazz's Francis Lo Kee in a review. Smulyan organized the three baritone Saxophone Band which places him in the company of two of his seniors- Ronnie Cuber and the late Nick Brignola. The group released Plays Mulligan on 1998, the date serving as a tribute to the late Gerry Mulligan, one of the foremost baritone saxophonists in jazz history and a mentor for many artists, including Smulyan.
Related Events