Creative Hearts Staff Showcase
October 30 @ 12:00 pm

-

December 10 @ 5:00 pm

Free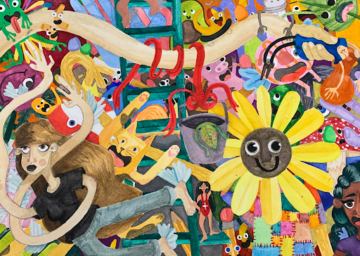 It was 2008 when Emily Gosweiler first helped the Community Nursing School in Dobbs Ferry expand their preschool art program, focusing on love and connection. Fifteen years later, the non-profit Creative Hearts continues to have a profound impact on the community.
The core philosophy of Creative Hearts is to empower children through artistic expression; reminding them that they are already incredible, loving, capable, and bright. This philosophy is brought to life by a team of passionate teachers, each with their own breadth and diversity of artistic experience that they leverage to nurture their students' personal voices.
And starting this Sunday at the Donald Gallery in Dobbs Ferry, you can peer behind the curtain and see what these creative minds have been working on outside of the classroom—from abstract painting and bronze sculptures to the art of hand poke tattooing!
You can see "The Creative Hearts Staff Showcase" with works by Isabel Oliveras, Chelsea Michaelis, Bianca Troppmann, and Emily Gosweiler starting October 30th through December 10th at The Donald Gallery in South Presbyterian Church. An opening event will be held at noon on Sunday, October 29th with light refreshments.
Donald Gallery Hours of Operation Fall 2023*
Tuesday 12–6:30pm | Wednesday 2–4pm | Thursday 12–4pm | Sunday 9am–1pm
*Other times by appointment. Call Robin at 914.693.0473.
Related Events