Co-Existing with Coyotes
December 15 @ 7:00 pm

-

8:00 pm

Free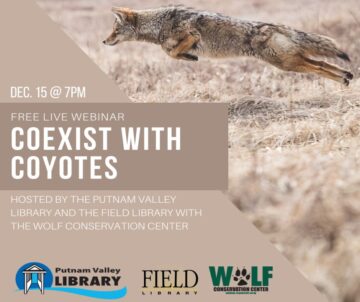 Join us for a free live webinar about Eastern coyotes, their history and ecology, and what we can do to best coexist with them. Coyotes serve a vital ecological role and are largely fearful of humans. Though plagued by decades of persecution at the hands of humans, this resilient canid is here to stay. It's about time we focus our efforts on co-existence.
– Learn about methods to improve co-existence with this clever species
– Receive advice or clarification on experiences/encounters
– Come away with tips on how to reduce human-wildlife conflict
– Become an advocate for this misunderstood species
This webinar will be presented by Dana Goin, Wildlife Outreach Specialist for the Wolf Conservation Center of South Salem. Hosted on Zoom. Free and open to all.
This program is a collaboration between The Field Library of Peekskill and Putnam Valley Library. To register, copy and paste this link into your browser: http://bit.ly/coyotes21.