Christmas in the 19th Century
December 2 @ 2:00 pm

-

3:00 pm

$10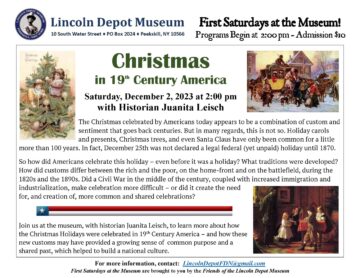 The Christmas celebrated by Americans today appears to be a combination of custom and sentiment that goes back centuries. But in many regards, this is not so. Holiday carols and presents, Christmas trees, and even Santa Claus have only been common for a little more than 100 years. In fact, December 25th was not declared a legal federal (yet unpaid) holiday until 1870.
So how did Americans celebrate this holiday – even before it was a holiday? What traditions were developed? How did customs differ between the rich and the poor, on the home-front and on the battlefield, during the 1820s and the 1890s. Did a Civil War in the middle of the century, coupled with increased immigration and industrialization, make celebration more difficult – or did it create the need
for, and creation of, more common and shared celebrations?
Join us at the museum, with historian Juanita Leisch, to learn more about how the Christmas Holidays were celebrated in 19th Century America – and how these new customs may have provided a growing sense of common purpose and a shared past, which helped to build a national culture.
Related Events