Celebrate the holidays with white truffles
December 24, 2021 @ 12:00 pm

-

January 1, 2022 @ 8:30 pm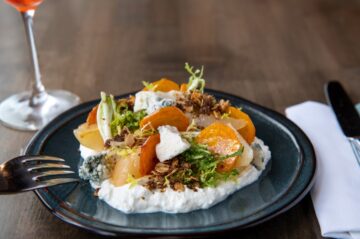 Italian white truffles will take center stage during the holidays at Apropos, a contemporary American restaurant in a renovated convent with spectacular views of the Hudson River.
Apropos—the Abbey Inn & Spa's signature dining concept—will celebrate the fragrant, gourmet tuber with daily specials that include seasonal products and ingredients from the Hudson Valley. Apropos sources its Italian white truffles from Urbani Truffles, which has exported truffles from Italy since the 19th century.
"Truffles' earthy-pungent profile is a complex flavor revered for thousands of years," said executive chef Jared Secor. "We are delighted to showcase this luxurious ingredient and offer our guests a dish they will soon not forget."
The ancient Romans considered truffles—which grow among the roots of oak, hazel, poplar, and beech trees—a delicacy and an aphrodisiac. In contemporary cooking, the demand for truffles has turned the fungi into a luxury ingredient.
The white truffle season lasts from September to December, when they grow wild in Italy's forests. The holidays are gourmands' last chance to savor white truffles at the peak of their freshness and maturity.
Chef Secor was raised with a central focus on local agriculture and wine education, and he spent his early years working in local Hudson Valley kitchens. Living down the road from the Culinary Institute of America set him on a path to professionally pursue his passion for creating innovative dishes that celebrate local ingredients.
Apropos' holiday hours are:
Christmas Eve, December 24
Lunch: 12:00 pm to 2:00 pm; Dinner: 5:00 pm – 8:30 pm
Christmas Day, December 25
Dinner: 1:00 pm – 7:00 pm
New Year's Eve, December 31
Lunch: 12:00 pm to 2:00 pm; Dinner: 5:00 pm – 8:30 pm
New Year's Day, January 1
Lunch: 12:00 pm to 2:00 pm; Dinner: 5:00 pm – 8:30 pm
Per New York health guidelines, and for the safety of all guests and staff, every guest entering the Inn & restaurant is required to wear a mask.
Related Events