Causing Chaos Inc. @ Sing Sing Kill Brewery
December 29, 2019 @ 7:00 pm

-

9:00 pm

Free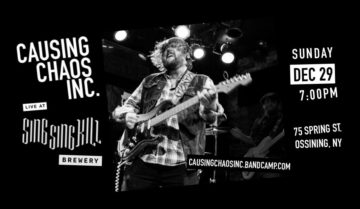 Causing Chaos Inc. is finally heading into the studio this December. To celebrate they are premiering a series of songs at the Sing Sing Kill Brewery, which aside from making some really tasty beers, has been building a great live music scene of its own.
Come on out and enjoy a few crispy beers with CCI as they play some really well-crafted tunes. Great Beer! Great Tunes!
Causing Chaos Incorporated is fronted by Erik Neuberger, who is best known as the bassist from New York City's Johnny & the Bootlegs. The project is the culmination of music developed over more than a decade. After years of being crafted and recrafted, each song has found its own path and has been ultimately distilled down into its purest form. While Neuberger's arrangement is at the heart of the band, the project came to life through the dynamic playing of John Santiago on the bass, and the nuanced drumming of Danny Kenny. Neuberger's bi-coastal life experience finds influence grounded in the 90's alternative of his youth, and colored by bands that inspired him along the way- from New York to San Diego, and back again. While there is an array of personal and musical influences present in the styles evoked by Neuberger, there is a tone and perspective that remains constant throughout his music. Sonically, CCI appeals to fans who are drawn to the likes of Manchester Orchestra, the Get Up Kids, Death Cab for Cutie, and Cursive. Clever, earnest, insightful, heartbreaking, and exciting, Causing Chaos Inc. continues to build an audience that find themselves on the same chaotic ride.