Bridge the Partisan Divide with Braver Angels
September 28 @ 6:00 pm

-

8:45 pm

Free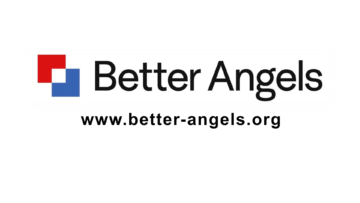 In Person, Thursday, September 28th, 6 PM – 8:45 PM
We are a national movement to bridge the partisan divide in an effort to strengthen our democratic republic. We are also a grassroots movement with an alliance that has formed in Westchester County. Braver Angels brings liberals, conservatives and others together at the grassroots level–not to find centrist compromise, but to find one another as citizens. Through workshops, debates, campus engagement, and more, Braver Angels helps Americans understand each other beyond stereotypes, form community alliances, and reduce the vitriol that poisons our civic culture. Please join us to view a documentary about Braver Angels featuring our first Braver Angels Workshop that took place in Lebanon, Ohio. We will have a discussion, after the documentary, about what Braver Angels is doing now and answering any of your questions.
If you are heartsick about the rancor tearing us apart–
If you believe that your opponents should not be your enemies–
If you believe that America's best days are ahead of her–
You need Braver Angels and we need you.
"We are not enemies, but friends. We must not be enemies. Though passion may have strained, it must not break our bonds of affection. The mystic chords of memory…will yet swell the chorus of the Union, when again touched, as surely they will be, by the better angels of our nature."
– Abraham Lincoln, March 4, 1861
Please register online or call the library.
Our programs are supported by the Friends of the Somers Library through our patrons' generous contributions.
The Somers Library ~ (914) 232-5717 ~ www.somerslibrary.org
Related Events