Author Charles Phillips in Conversation with James Whorton Online
October 5, 2021 @ 7:00 pm

-

8:00 pm

Free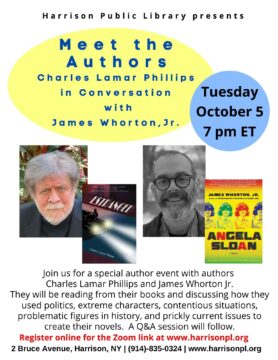 Charles Lamar Phillips, author of the historical novel Estranged, set in the 1950s Joseph McCarthy Communist witch hunt era will be in conversation with author James Whorton, who wrote Angela Sloan, set in the 1970s Watergate era, a time of personal political obsessions and paranoia. They will be reading from their books and discussing how they used politics, extreme characters, contentious situations, problematic figures in history, and prickly current issues to create their novels. A Q&A session will follow.
About the Authors: Charles Lamar Phillips is author of Dead South, Stories (Fomite Press, Feb. 2020). His fiction appears in Massachusetts Review, New England Review, Cincinnati Review, Fifth Wednesday Journal, Chaffin Journal, Raritan, and others. A graduate of the Iowa Writers Workshop, Phillips has been a writer, columnist or editor at Congressional Quarterly, The Washington Star, Higher Education and National Affairs, History News, and American History. He is now managing editor of the American Journal of Play. He resides with his wife Patricia Hogan in Rochester, NY. James Whorton Jr. is the author of two other novels, Approximately Heaven and Frankland. A former Mississippian and former Tennessean, he lives in Rochester, New York with his wife and their daughter. He is an Associate Professor of writing and literature at SUNY Brockport.
Synopsis of the Novels: In this stylish and gripping historical noir novel, Estranged, Randall Harker—the controversial city editor of an established progressive daily in the urban Midwest of 1950—excites the wrath of a reckless, corrupt, and ambitious U.S. Senator anxious to make a name for himself as the country's most ardent anti-Communist. Decidedly flawed and afflicted by personal demons and political foes, Harker finds himself abandoned by friends and colleagues as he loses his wife, his reputation, and his job. He also finds himself losing the very sense of his own identity. With its gritty realism and dead-on period detail, the elegant prose of Estranged renders the rough-and-tumble world of mid-century journalism, the historical post-war battle between the Mob and trade unions, and the tender, intimate, and sensual moments of Harker's desperate romantic escape from the nightmare that his personal and professional life has become. In a tale whose events and themes very much reverberate in Trump's America, the novel addresses surprisingly contemporary concerns about gender, homosexuality, and sexism, although at an oblique, historical angle. This is a story that occurs at the intersection of public and private life, of love and work with politics and history. In his latest novel, Angela Sloan, universally acclaimed author James Whorton, Jr., delivers a curious Nixon-era caper of broken men and stoic runaways who learn just how much there is to gain, and lose, when you go undercover. Angela Sloan, a seemingly average teenager living in the suburbs of Washington, D.C., is left to lie low and fend for herself when her father, a retired CIA officer, skips town in the wake of the Watergate scandal. Driving a Plymouth Scamp she has just learned to operate, Angela encounters strangers literally at every turn. A fugitive Chinese waitress won't get out of the car. A jaded lady spy offers up free therapy and roadside assistance. A restless pair of hippies keeps preaching about the evils of monogamy. And an anteater lurks in the unlikeliest of places. But through all of her outlandish adventures, Angela keeps focused on one urgent wish: to reunite with her father. Bold and quirky, Angela Sloan is a priceless coming-of-age story about stealing diner food and salvaging lost identities.
Details
Date:

October 5, 2021

Time:

7:00 pm - 8:00 pm

Cost:

Free

Event Category:
Organizer
Venue
2 Bruce Avenue




Harrison

,

10528

+ Google Map

Phone:

(914)-835-0324
Related Events
June 1 @ 7:00 pm

-

8:30 pm

June 1 @ 7:00 pm

-

8:30 pm

June 13 @ 7:30 pm

-

8:30 pm