Anxiety and Depression: Cultivating a Chemistry of Joy
October 26 @ 7:00 pm

-

8:30 pm

Free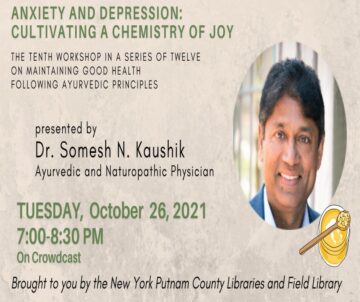 Join Dr. Somesh Kaushik for this monthly series on Ayurvedic Medicine.
This series is sponsored by Brewster Public Library, Butterfield Library of Cold Spring, The Field Library of Peekskill, Mahopac Public Library, Putnam Valley Library, Reed Memorial Library of Carmel, and Desmond-Fish Public Library of Garrison.
Register here (copy and paste link into browser): https://bit.ly/anxiety10-26 to join this lecture. Hosted on Crowdcast.
In Ayurveda, balancing the three body types – pitta, vata, kapha – results in an outlook on life in which one feels in harmony with the universe. Imbalance allows disharmony to take hold and feelings of depression, anxiety, fear, and despair can result. These feelings and emotions resulting from the imbalance can, in turn, affect the chemistry of the body and create a vicious cycle of physical, mental, and emotional pain. Ayurveda has natural methods to restore the balance of body, mind, and spirit, and stop the painful cycle.
Come and discover which body types are prone to depression, anxiety, and anger as well as the link between toxins, diet, lifestyle, and depression/anxiety. You will learn how supplements can work with or against your body type and what foods can affect and change your brain chemistry.