An evening of readings from Relations: An Anthology of African and Diaspora Voices with author & editor Nana Ekua Brew-Hammond (Via Zoom)
February 22 @ 7:00 pm

-

8:30 pm

Free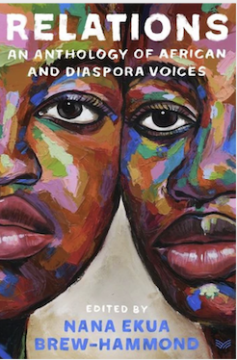 Join writer, editor, and HVWC instructor, Nana Ekua Brew-Hammond as she discusses putting together her incredible anthology, Relations. Fresh and electrifying—stories, poems, and essays by African and diaspora writers, edited by author Nana Ekua Brew-Hammond.
Relations punctures the human illusion of separation. New and established storytellers reshape the narratives that divide and subjugate, revealing the truth of our shared humanity despite differences in language, identity, class, gender, and beyond. This vital anthology is Nana Ekua Brew-Hammond's striking vision of a meeting place of perspectives, centered in the African and diaspora experience. In a post-Black Panther world, it is an urgent and welcome embrace of the diversity of Blackness. A refreshing collection of genre-spanning literature, it offers a vibrant meditation on being—inviting connection across real and imagined borders, and celebration of the most profound relations.
NB: This reading will take place on Zoom. The link will be sent to the email that you use to register as soon as you reserve a spot. (Please check your spam folder and save the link to your calendar.) It will also be sent to you the day of the reading for your convenience.
Dami Ajayi studied Medicine and Surgery at Obafemi Awolowo University, Ile-Ife, Nigeria where he co-founded the literary magazine, Saraba. Since then, he has co-founded The Lagos Review and most recently Yaba Left Review. His first volume of poems, Clinical Blues, was longlisted for the Melita Hume Prize and the Wole Soyinka Prize for Literature in Africa. His second volume of poems, A Woman's Body is a Country, was a finalist for the Glenna Luschei Prize. He co-edited the anthology Limbe to Lagos: Nonfiction from Cameroon and Nigeria. His essays on literature, music, film and popular culture have appeared in Chimurenga Chronic, Guardian UK, The Africa Report, Lost in Lagos Magazine, The Elephant, Bakwa Magazine, Afropolitan Vibes Magazine and also in translation in Das Goethe (a Die Ziet
supplement). He works as a psychiatrist in London.
Ayesha Harruna Attah is a Ghanaian-born writer living in Senegal. She was educated at Mount Holyoke College, Columbia University, and New York University. She is the author of the Commonwealth Writers Prize-nominated Harmattan Rain; Saturdays Shadows; The Hundred Wells of Salaga, currently translated into four languages; The Deep Blue Between, a book for teen readers; and Zainab Takes New York, a rom-com. Her writing has appeared in the New York Times, New York Times Magazine, Elle Italia, Asymptote and the 2010 Caine Prize Writers' Anthology.
Fatima Camara is a writer and spoken word artist from Minneapolis, MN. Not only a TruArtSpeaks (TAS) program alumna, Fatima has worked as the ReVerb Open Mic host, Programs Associate and Be Heard Liaison for TAS. She currently serves as their Administrative Associate. She is a recent graduate of Metropolitan State University with a degree in Professional/Organizational Communications with a minor in Community Development &Organizing. Her chapbook, Yellowline, was published through Akashic Book and the African Poetry Book Fund. Fatima's passion for writing comes from her desire to highlight the stories and experiences of first-generation people here in America. Through her creative work, she hopes for future first generations to have narratives they can reference and relate to. Follow her: @fatima.c1 (Instagram), @fatimac_1 (Twitter)
Chiké Frankie Edozien is the author of the Lambda Literary Award winner Lives of Great Men. He lives in Accra, Ghana.
Reem Gaafar is a public health physician, writer, researcher, filmmaker and mother of three boys. A graduate of Juba University and the University of Liverpool, she has over fifteen years of experience in the Middle East, Africa, and North America and is currently working toward a PhD in Community Health at the University of Ontario, Institute of Technology in Canada. Over the years she has accumulated nearly two hundred publications including blog posts, peer-reviewed and magazine articles, short stories, policy briefs and book contributions. Her fiction and non-fiction writing has appeared in African Arguments, African Feminism, Teakisi Magazine, Andariya, 500 Words Magazine, International Health Policies and Health Systems Global. Her short story "Light of the Desert" was awarded an Honorable Mention and was published in the anthology I Know Two Sudans, and she was shortlisted for the Miles Morland Foundation Scholarship in 2020. More on her work can be seen at reemgaafar.com.
Vanessa Walters is an author and playwright originally from the UK, now based in the US. She's a fellow and former resident of Tin House and The Millay Colony. Her forthcoming novel THE NIGERWIFE will be published in June 2023 by Atria Books.
Nana Ekua Brew-Hammond is the author of the children's picture book BLUE: A History of the Color as Deep as the Sea and as Wide as the Sky, illustrated by Caldecott Honor Artist Daniel Minter, and the young adult novel Powder Necklace, which Publishers Weekly called "a winning debut." BLUE was named among the best books of 2022 by NPR. Her short fiction for adult readers is included in the anthologies Accra Noir, edited by Nana-Ama Danquah; Africa39: New Writing from Africa South of the Sahara, edited by Ellah Wakatama Allfrey; New Daughters of Africa: An International Anthology of Writing by Women of African Descent, edited by Margaret Busby, CBE, Hon. FIRSL; Everyday People: The Color of Life, edited by Jennifer Baker, and Woman's Work: Short Stories, edited by Michelle Sewell, among others. Brew-Hammond was a 2019 Edward F. Albee Foundation fellow, a 2018 Aké Arts and Book Festival guest author, a 2017 Aspen Ideas Festival Scholar, a 2016 Hedgebrook writer in residence, and a 2015 Rhode Island Writers Colony writer in residence. Every month, Brew-Hammond co-leads a writing fellowship whose mission is to write light into darkness.
Details
Date:

February 22

Time:

7:00 pm - 8:30 pm

Cost:

Free

Event Categories:

Event Tags:

Website:
Organizer
Phone:

9143325953

Email:

admin@writerscenter.org
Related Events
April 1 @ 2:30 pm

-

4:00 pm

April 2 @ 2:30 pm

-

3:30 pm

April 2 @ 4:00 pm

-

5:30 pm