2022 Yonkers Restaurant Week!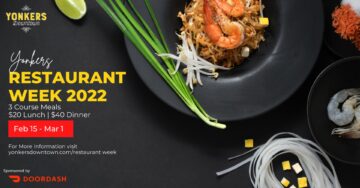 Once again the Yonkers Downtown/Waterfront Business Improvement District (YDWBID) has organized the exciting and delicious Yonkers Restaurant Week in Downtown Yonkers. Participating restaurants are offering $20 Lunch and $40 Dinner 3-course meals. This year's event will take place from February 15th through March 1st, so hurry up and make your reservations now! Take-out options is also available. Delivery is available through doordash.
DoorDash Promo Code for Restaurant Week: YRW30
Yonkers Restaurant Week Power By DOORDASH! Enjoy 30% off your first order on DoorDash with code YRW30. Discount code is only valid from Feb 15 – Mar 1.
Yonkers Restaurant Week highlights the wide variety of dining options that are available right here in Yonkers Downtown. From Mexican to Italian and American to Irish, there is something to please everyone's palate. Grab your friends and turn a boring winter day into a fun and delicious night out!
Related Events