1st Annual Yorktown Youth Keeping the Dream: Celebrating Character, Kindness, and Thoughtful Service
January 17 @ 3:00 pm

-

6:00 pm

Free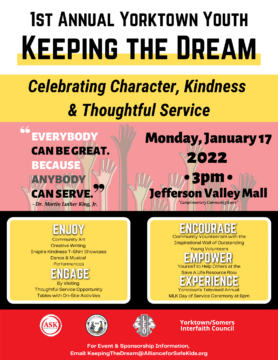 The Alliance for Safe Kids will be hosting the 1st Annual Yorktown Youth Keeping the Dream: Celebrating Character, Kindness, and Thoughtful Service on Monday, January 17, 2022, from 3 – 6 pm at the Jefferson Valley Mall; 650 Lee Blvd, Yorktown Heights, NY 10598. The free event is purposefully aligning with Martin Luther King Jr. Day. It will be the first of many youth-driven activities to celebrate character, kindness, and thoughtful service throughout the year. Join and share teens' voices through art, creative writing, dance, and musical performances, which will be transmitted live at the Keeping the Dream Event and virtually throughout the year.
The community of Yorktown and surrounding towns will participate in ASK's Inspire Kindness T-Shirt Project and Thoughtful Bystander Bracelet Campaign – both designed by high school and college students. Engage with community partners who will provide interactive exhibits focused on thoughtful service, including the Yorktown Leo's, celebrating 25 years of youth service for others.
Get inspired by the student-designed Wall of Volunteers recognizing outstanding service from young community members under the age of 30. Gather essential tools along Save A Life Row, sharing valuable resources to support Youth Mental Health, Prevent Substance Abuse and Provide Important Safety Tips. The day will end at 6 pm by observing the on-site and Annual Town televised Martin Luther King Jr. Day of Service Ceremony planned with the Yorktown/Somers Interfaith Council.
To learn more about the event, volunteer your talents, or become a sponsor, visit bit.ly/keepingthedream. For questions, contact KeepingTheDream@allianceforsafekids.org.