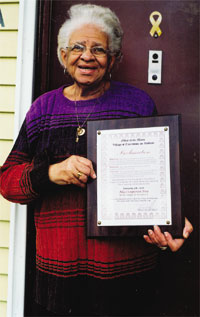 Alyce Coqueran
On Cortlandt Street in 1926 a midwife named Mrs. Zingaro delivered a baby girl to be named Alyce. She grew up on that block attending and graduating from North Tarrytown High School, the current Morse School.
With the ambition and determination that would serve her throughout the years of raising seven children, working multiple jobs and being a role model in our community, she recently celebrated her 80th birthday.
Reaching eighty is an achievement in and of itself, however on Tuesday, January 3rd she was acknowledged and given her very own day in the Village of Tarrytown, as a sign of gratitude. The proclamation read to her at the Village Board meeting described her retirement at age fifty-five from the Westchester Medical Center, only to return to the workforce for an additional fifteen years as the Site Manager for the Village's Nutrition Program for seniors. That nutrition program, sponsored by the Town of Greenburgh and held at the Knights of Columbus Hall on Washington Street, included not only meals but socialization, exercise and the well-being that arose from seniors getting together daily.
Sitting across from Alyce Coqueran in her neat and picture-filled apartment at Franklin Courts, she spoke about her life and her children who play an enormous role in it. There are five girls and two boys all of whom have names beginning with the letter "A." Her oldest, Alice, is retired from AT&T. Then there is Adrienne, a physician. Her older son, Albert, is a photo journalist and his celebrity photos dot her walls. Her middle child, Arnelle, has a Master's in Social Work and is the After School Program Director for the Albany Magnet Schools. Her second son, Anthony, works in Hotel Management while her next to the youngest daughter, Aurette, teaches dance at Dance Magic. Her youngest child, Angela, is a celebrity photographer living in West Hollywood. The children take an active part in her life and she in theirs. Her vitality is a testament to that kind of involvement within and outside of her family.
She's proud to be eighty years old."I've earned every day of it and I'm grateful for what I have," she said. On January 4th one more sign of gratitude came her way— "Alyce Coqueran Day in the Village of Tarrytown."