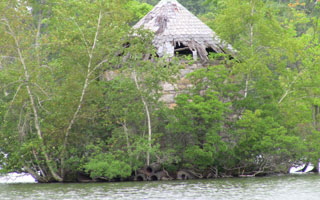 The following pictorial essay reflects a lack of attention to what used to be the Village's water supply and is now billed as a recreation area
The former pump station is an eyesore for anyone visiting
the eastern end of the larger lake.
Visitors and residents alike traveling west on Neperan Road are greeted to Tarrytown by the decaying former pump station.
Pumping stations in the middle of the larger lake were once beautiful architectural structures and now have fallen into a dilapidated state.
A ramshackle blockade to prevent foot traffic over a broken bridge.
Tarrytown's current pump station speaks volumes about security and maintenance.
Sign reflects the quality of work around the Lakes
The smaller lake in August
Bottles at the shore's edge are reminiscent of neglected watersheds.
Cans litter the edge of the shoreline and remain month after month for all to see.
A sign that states incorrect information has remained for decades after the Village stopped using the Tarrytown Lakes as a water supply.
Algae blooms and aquatic grasses reach out 30-plus feet from the shore of the smaller lake, preventing fishing.
Aquatic grasses break the surface of the water the entire length of the smaller lake. Their presence adds to the decaying plant matter that settles in the lake. As the lake fills with this organic matter and sediment it looses water.The lake runs the risk of turning into a marsh or bog as a result.
No Dumping—The Village obviously is excluded.
Street signs dumped behind the water tower just east of the footpath.
Fencing dumped.
Guardrails dumped
Piping dumped
Concrete encrusted poles dumped
For all the lip service paid to protecting the
environment and thinking "green," the
Village of Tarrytown has allowed the jewel
of its eastern border to fall into a
state of indefensible disrepair.