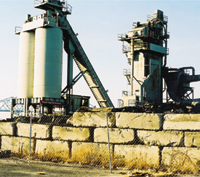 GONE!
At his own expense, National RE/Source's president and developer for the proposed "Ferry Landings," Mr. Joseph Cotter, has engineered a move that will take Peckham Industries' "County Asphalt" plant to a site in Mt. Vernon, bordering the Bronx.
"I just did it. The plant will be gone forever," Mr. Cotter said. The Plant had been a contentious issue between Tarrytown and Sleepy Hollow up until last year and its presence stalled every initiative to get the Ferry Landings project approved.

County Asphalt, established in 1924, has been operating on Tarrytown's waterfront for over 80 years. It has not been operational since last November and will be removed completely by the end of March, according to Mr. Cotter.