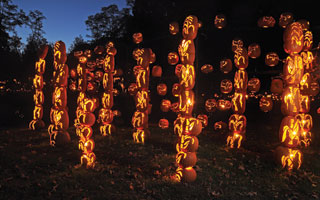 Looking for a full immersion Halloween experience? Look no further than your historic Sleepy Hollow Country, made famous by Washington Irving in his classic tale, "The Legend of Sleepy Hollow."
The 22-night Great Jack O'Lantern Blaze at Van Cortlandt Manor in Croton-on-Hudson is truly "can't-miss." Legions of Facebook fans sing its praises, with one enthusiast deeming it "the greatest Halloween treat, ever."
At Blaze, you meander through an 18th-century riverside landscape and discover more than 5,000 individually hand-carved, illuminated jack o'lanterns, including huge installations like life-size dinosaurs and a 50-foot diameter spider web.
Each year, the team at the non-profit Historic Hudson Valley, which owns and operates Van Cortlandt Manor, refreshes the pumpkin palooza with new and innovative exhibits. This year, stroll through the Tunnel O' Pumpkin Love and emerge to the incredible sight of a gourd-filled Jack-in-the-Box springing up and bouncing around. Floating and flying pumpkin ghosts will soar above the lantern-lit path.
Worried that the Mayans were right and 2012 is THE END? Consult the Pumpkin Prophesy doomsday grandfather clock. See slithering snakes, a giant spider web, an undersea aquarium, and super-sized dinosaurs. Go gaga over a collection of shrunken Little Monsters and gaze in amazement at a towering pumpkin bonfire.  And yes, everything is made of jack o'lanterns.
Also making its debut this year is Blaze: The Soundtrack, all-original music by recording artist Richard Christy, inspired by Blaze.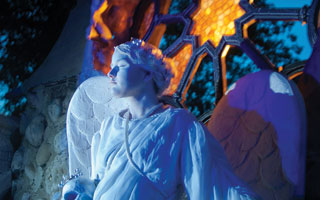 Blaze takes place Oct. 6-8, 12-14, 19-21, 25-31, Nov. 2-4, 9-11. Blaze is not designed to scare and is suitable for all ages. Want something darker? The area's premier fright fest is the 11-night Horseman's Hollow at Sleepy Hollow's Philipsburg Manor, which features a terrifying landscape ruled by the undead, the evil, and the insane – all in elaborate, period correct circa-1780 costumes! Taking the tale of The Legend of Sleepy Hollow to its darkest extremes, Horseman's Hollow transforms a historic landscape into a terrifying domain. Visitors begin walking a haunted trail, stumbling upon scary scenes of a town driven mad by the Headless Horseman. Creatures, human and otherwise, lurk in the shadows, ready to terrify the unsuspecting while incredible special effects disorient and unsettle. Elaborate costumes and the work of award-winning feature-film makeup artists make it all too real.
Those who survive the trail must still negotiate a twisted maze of horrors too terrible to describe, only to end up in the lair of the Horseman. Heads will definitely roll…maybe even your own. Enter at your own risk!
Horseman's Hollow takes place Oct. 6-7, 13-14, 19-21, 25-28.
Want to immerse yourself in Washington Irving's tale without risking your head? Then get to the Old Dutch Church for Irving's "Legend." Master storyteller Jonathan Kruk offers a dramatic re-telling of Washington Irving's classic tale featuring the Headless Horseman, Ichabod Crane, Brom Bones, and Katrina Van Tassel. The 1685 stone church is across the street from Philipsburg Manor, where visitors will park, and performances last about 45 minutes.
Irving's Legend takes place Oct. 6-8, 12-14, 19-21, 26-28.
Need some daytime fun? Legend Celebration at Sunnyside, the homestead of Washington Irving, offers a variety of delightful activities geared toward the younger set. Enjoy magicians, storytellers, puppeteers, live musicians, and a spooky mime. Children can take part in old-fashioned games and hands-on activities such as scarecrow making.
Legend Celebration takes place Oct. 6-8, 13-14, 20-21, 27-28.
All admissions to Blaze, Horseman's Hollow, and Irving's "Legend" are by timed ticket only, which must be purchased in advance. These events have limited capacity and they sell out! Buy tickets online at www.hudsonvalley.org or call 914-631-8200.