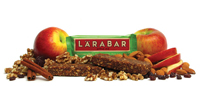 Lloyd Dobler once said, "I don't want to sell anything, buy anything, or process anything. I don't want to sell anything bought or processed, or buy anything sold or processed, or process anything sold, bought, or processed, or repair anything sold, bought, or processed. You know, I don't want to do that." Lloyd Dobler; who didn't love him? (He's John Cusack's character in the movie Say Anything.)
The reason I bring this up is that a lot of times I get people asking me for suggestions on what to snack on. People love granola bars, energy bars, fruit bars, fiber bars and any kind of bar because it's easy. You grab it in the morning, throw it into your bag and when you're hungry, it's easy to open and eat in less than three minutes. I get it, I'm the same way. So after finding out that my Pure bars were not as healthy as I thought, I went on the hunt for the perfect snack bar that is packaged but not processed. Because if it's processed, then I don't want to buy it or sell it.
After my week-long search I not only found a great bar, but I found two. I couldn't believe it myself. One is Nature's Promise Granola Honey Roasted Snack Bar. Number of ingredients:5. Whaaat? I know. Nothing has only five ingredients that comes in a package. And it's certified USDA organic. (Although, I take that with a grain of salt. Not than I'm a conspiracy theorist, but I sometimes get this nagging feeling that the US government isn't as concerned about the well-being of the consumer as they are about profit margins.) But I digress. So these Nature's Promise bars consist of rolled oats, honey, raisins, almonds, and crisp brown rice. Now I know the honey is an added sugar, but to me is sounds a whole lot better than high-fructose corn syrup or evaporated cane juice. As a snack that's 110 calories and 1.5g of fat, I'm thinking we just struck gold. My only concern here is that apparently Nature's Promise is an organic brand created by the big-wigs behind Giant, which owns Stop and Shop and other supermarkets. But maybe I'm just getting too political and need to ease up. (I just finished watching Food, Inc. so I'm quite wary of any and all corporations.)
The next bar that I found has only six ingredients and this one definitely doesn't add any sugar and is all natural. These are Lara Bars. They're gluten-free, dairy free, soy free, non-GMO (genetically modified organisms), vegan and kosher. Sounds dreadful doesn't it? I know, if something is that healthy it has got to taste like grass. But I implore you to try them. I had the apple pie one and it was very good. The ingredients are dates, almonds, unsweetened apples, walnuts, raisins and cinnamon. That's it. These bars are higher in calories and fat than Nature's Promise, but it's all good fat and as long as you're exercising, the calories aren't going to sabotage your diet. Personally I welcome more calories if it has an ingredient list as simple as that. Unfortunately, this product is also owned by a large corporation, General Mills, so that's a bit of a bummer but as far as I can tell, since acquiring the brand, the integrity of the product hasn't been compromised.
Alright, so there it is, my week-long search in a nutshell. For a quick snack throw away the glorified candy bars and try one of these, I don't think you'll be disappointed.
Anne Marie Costanzo is an ACE-certified personal trainer and owner of Little Black Dress Personal Training. She can be reached at am@littleblackdresspt.com or at (914) 841-1121.