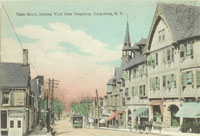 Situated on the eastern shore of the Hudson River, in an area called the Tappan Zee (Tappan for the Tappan Indians who once lived in what is now Rockland County, and Zee...
Read more »
How many of us are so busy with our lives that we see how fast we can negotiate the curves around the Tarrytown Lakes as we hurry to get home? I was...
Read more »
In 1901, Music Hall was one of the first theaters to show motion pictures. Presidents Roosevelt, Taft and Wilson have made appearances there. The acoustics are considered phenomenal and artists such as...
Read more »