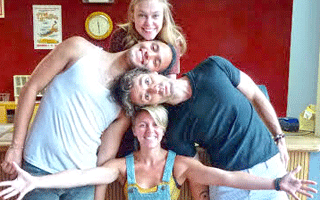 Photo by Pia Haas.Top to bottom: Devon Perry, Gilbert D. Sanchez (Jesus), Xander Chauncey (Judas), Karley Willocks.
July 9th – August 9th, 2015 • Press Opening: July 10th, 2015
Book & Concept by John Michael Tebelak • Music & Lyrics by Stephen Schwartz • Directed by John Fanelli • Musical Direction by Bill Stanley • Choreography by Jonathan Stahl
This immensely successful rock opera was the first major musical theatre offering from 3-time Grammy and Academy Award winner Stephen Schwartz (Wicked, Pippin, Children of Eden).
It is based on the Gospel according to St Matthew. It focuses on the last days of Jesus, and includes dramatized versions of several well-known parables. At once, a demonstration of joy, and a celebration of the family of man, Jesus's messages of kindness, tolerance, and love come vibrantly to life.
The cast are conceived as clowns, improvising scenery and costumes, and using a wide variety of games, storytelling techniques, pantomime, comic timing and varied musical styles to interpret one of humanity's greatest events.
The score, an eclectic blend of songs ranging in style from pop to vaudeville, features many beloved songs including "Prepare Ye The Way Of The Lord," "Learn Your Lessons Well," "All For The Best," "All Good Gifts," "Turn Back, O Man" and "By My Side".
The show opened Off-Broadway, on May 17, 1971, and has played in various touring companies and revivals many times since.  GODSPELL opened on Broadway in 1976, it was directed by John Michael Tebelak (who wrote the original book for his thesis at Carnegie Mellon) and was met by much critical acclaim. There was a 2011 revival on Broadway in 2011.  Several cast albums have been released over the years and one of its songs, "Day by Day" from the original cast album, reached #13 on the Billboard pop singles chart in the summer of 1972.
We are thrilled to bring this timeless classic to the WBT stage!  Director John Fanelli, who has directed SOS productions of Peter Pan, Big River and Ragtime, here at WBT, will be at the helm. The Associate Director/Choreographer is Jonathan Stahl. The Musical Director is Bill Stanley.
Our production stars:  Kareema Castro, Xander Chauncey (as Judas), Josh Kenney, Greta Kleckner, Nicholas Park, Devon Perry, Nathan Andrew Riley, Gilbert D. Sanchez (as Jesus), Corinne Scott, Sarah Smithson, Karley Willocks and Jonathan Stahl.
Set Design is by Steve Loftus, Lighting Design is by Andrew Gmoser, Sound Design is by Jonathan Hatton, Costume Design is by Matthew Hemesath. The Production Stage Manager is Victor Lukas, Properties are by Grumpy Props. As with all our productions, Lisa Tiso is the Associate Producer.
John J. Fanelli (Director) holds a degree in Theatre Arts from the University of California, San Diego. Mr. Fanelli has had more than seventeen successful years directing, teaching and creating programs for young people in theatre arts. John helped to establish a network of theatre programs for young people that spanned the coast of California and reached to New Zealand. He returned to NY in 2004 and developed Young Artists of the WBT. He expanded his reach and scope of programming by taking over as Artistic Director for the Times Square Group, NYC, where he developed and implemented educational theatre programs for the public schools of NYC.  In 2006, He founded his own non-profit educational theatre company called Lighthouse Youth Theatre and Education. Inc. LYT is an amalgamation of John's professional and educational talents that blend into one organization dedicated to training young people in the arts and giving them the tools necessary to succeed not only in the arts, but in life.  He has directed PETER PAN, BIG RIVER, SEUSSICAL, and RAGTIME with Standing Ovation Studios at WBT.
Gilbert D. Sanchez (Jesus) Godspell is Gilbert's WBT debut and marks his 4th time playing Jesus. Past Messiah credits include Godspell, Jesus Christ Superstar and the 4th grade Passion Play at his Catholic school. New York Credits: Cherchez la Femme (La Mama), Evita (John W. Engeman) and Allegro (APAC). Bless the Lord for my family, Mulgee and my Barbuto clan.
Xander Chauncey  (Judas) is stoked to return WBT where he was last seen in Titanic, as well as the title role(s) in Jekyll and Hyde and as Buddy in It Happened One Christmas Eve.  In NYC: The Magdalene (Peter, Original Off B'way, dir. Richard Maltby); Perfect European Man (Cherry Lane). REGIONAL FAVS: Titanic (Hangar Theatre, 2012 Best Actor in a Musical: Broadwayworld.com); Phantom (Phantom); The Full Monty (Paper Mill, Keno); Altar Boyz (Matthew); West Side Story (Bernardo, Riff); Footloose (Ren, Chuck); Cats (Munkustrap); Beauty and the Beast (Lumiere); Joseph…Dreamcoat (Joseph); Urinetown (Bobby). Xander has been seen on CW, Food Network and Spike TV as well as many national commercials.
Reservations:  Call (914)-592-2222. Also at:  www.BroadwayTheatre.com
Group Reservations:  Discounts for Groups of 20 or More: Call 592-2225.
Luxury Boxes:  Call 592-8730, for private parties of 6 to 22. Enjoy dining and theatre in an elegant private box. Additional features include an expanded dinner menu, hot and cold hors d'oeuvres, private powder room, and Luxury Box reserved parking. Additional cost, call for details.   
Ticket Prices Dinner & Show range between $56.00 and $84.00 PLUS TAX depending on the performances chosen. Beverage Service & Gratuities are not included in the ticket price. Discounts are available for children, students, and senior citizens at selected performances. Also check the website for on-going Special Offers! More news at: www.BroadwayTheatre.com