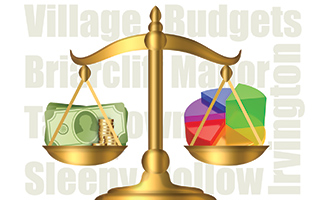 With the fiscal year coming to an end on May 31st for Briarcliff Manor, Irvington, Sleepy Hollow and Tarrytown, thoughts turn to the 2014-2015 budget season just getting underway. These Village budgets serve as both financial plans and annual policy documents. Financial decisions will be made that will affect local government programs and services over the next year. Funding priorities will be determined for the Villages and financial constraints require that Village Trustees weigh providing essential services against increased tax hikes.
Determining the amount of revenue that can be raised within the current tax cap levy is just one factor needed when putting together the annual Village budget. Information from the current and previous years' financial reports, as well as information on current revenues and expenditures, debt service commitments, cash flow, collective bargaining agreements, capital plans, and new or pending legislation is reviewed. The administrator or manager and trustees will also consider economic conditions, interest rates, and input from taxpayers and other interested groups when determining budget priorities. Village budgets estimate major revenue sources such as property tax receipts, sales tax and mortgage tax. Fixed costs like State and Federal mandates, debt service (principal and interest on borrowed money) and salaries must be accounted for before any other expenditure can be considered in the budget.
In New York State, budget milestones are met by certain deadlines. After information is gathered from department heads, the Village Manager/Administrator or Trustees prepare the tentative budget by March 20th, which is reviewed and modified by March 31st. A public hearing on the budget will be held no later than April 20th. Final revisions are made after the public hearing before the Village Board of Trustees adopts the final budget by May 1st.  Plan to attend a public hearing in your village if you have any issues or comments you want to the Board to know about before they finalize the budget for next year.
According to Village Administrator Larry Schopfer, the Village of Irvington planned a budget workshop on March 12th and has scheduled a public hearing on April 7th, continued on April 16th and one other date if necessary.
Tarrytown Village Administrator, Mike Blau will be submitting his tentative budget on March 20th. The Tarrytown Board of Trustees will then schedule budget work sessions and public hearings. Tarrytown also plans a capital budget for 2014-2015. That budget will be developed in May.
As of this writing, dates for work sessions and public hearings on the 2014-2015 budget have yet to be scheduled in both Briarcliff Manor and Sleepy Hollow. Anyone interested in attending a budget meeting,  may contact the Village of Sleepy Hollow (http://www.irvingtonny.gov) at (914) 335-5100 and the Village of Briarcliff Manor (http://www.briarcliffmanor.org) at (914) 941-4800. Tentative budgets will not be available until after the March 20th deadline.
Since 2012, current annual increases in local property taxes have been limited to two percent, but this "tax cap levy" adjusts annually with the federal consumer price index. According to the New York State Office of the State Comptroller, the tax cap levy for fiscal year June 2014-May 2015 is 1.48%. The Villages can exceed the tax levy limit if at least 60 percent of the members of its governing body vote in favor of a local law overriding the cap.
Tarrytown Village Administrator, Mike Blau, submitted his budget on March 20th as required by law, and proposes to remain within the tax levy cap in 2014-2015.
Last year, the Irvington Board of Trustees adopted Local Law #8 in April of 2013 to override the tax cap as a precaution to avoid any issues and avoid any penalties for incorrect calculations. The Irvington Board of Trustees will be releasing their tentative budget on March 20th, and it is not yet known if they will remain within the tax cap.
Briarcliff Manor officials are working hard to stay within the tax cap, but important public purpose bonding counted unfairly in the tax cap may make that questionable.
As the proposed budget had not been released at the time of this writing, the Village of Sleepy Hollow Administrator, Anthony Giaccio, is unclear if their budget will remain within the tax cap levy.
FUND BALANCE
According to the NY Office of State Comptroller, the designated budget officer for a village is responsible for calculating the year-end fund balance. Starting with a fund balance at the beginning of the year, revenues are added to date, and expenditures subtracted to date. This calculated amount represents the fund balance as of the last completed month. To this amount, projected revenues are added and projected expenditures are subtracted for the remainder of the fiscal year. The final figure is a reasonable estimate of fund balance available at year-end. The same procedure should also be used to determine the amount of any reserve balances available at year-end for each
applicable fund.
The Village Tarrytown has a fund balance of $3,522,797. The tentative budget proposes to appropriate $600,000 from that amount to help offset Tarrytown property tax increases.
The Village of Briarcliff fund balance is $1,792,638, none of which will be appropriated for the next budget, as is their policy.
Sleepy Hollow has combined governmental fund balances of $2,239,777 and has no plans to appropriate any funds for the next budget. It won't be known until March 20th  if the Village of Irvington will utilize any
unreserved fund balance in their tentative budget.
CAPITAL PROJECTS
New capital projects are budgeted for along with continuing projects from prior years. In the capital budget created in May, estimates will be submitted showing the amount required to continue such projects throughout the 2014-2015 fiscal year, the amount required to complete such projects and the amount already appropriated for such projects. Departmental estimates shall also include detailed estimates of new projects and shall include the estimated maintenance charges of the project when completed.
Briarcliff Manor plans a new ambulance for the 2014-2015 season.
In the Village of Irvington, a capital project is understood to be an expenditure of considerable cost that has a long useful life. As a matter of policy, capital requests are not considered for the CIP if the total cost of the project is less than $5,000.
In Irvington, the capital budget will be finalized later in April or early May.  The two largest projects that Administrator, Larry Schopfer expects to be considered are the Town Hall restoration project and the repairs to the Riverview Road water storage tank.
Neither Sleepy Hollow nor Tarrytown has finalized capital project purchases for the 2014-2015-budget year.
STATE MANDATES
It seems that every municipality is waiting for some sort of New York State mandate relief reform. Governor Cuomo's 6th executive order established a team to cut unfunded mandates to local governments and schools in 2011. Mandates are laws passed by the New York State legislature, which force local governments in New York State to do something or pay for something.
A good explanation of NY State mandates was found on a website, http://best4ny.org, where it asserts, the property tax cap limits the amount of taxes that can be assessed in a year.  If a local government must cut spending to meet the tax cap, note that it cannot cut State mandate spending, because only the NYS Legislature has the legal authority to do that.  So a local government can only cut its own spending to meet the cap.  In passing the tax cap, the (NY) Legislature did not tell local officials which specific local expenditures to cut and in what amount.  The tax cap is a so-called "blunt instrument" that limits the bottom line without specific requirements on how to reach that result.
In the Village of Briarcliff Manor, these mandates weigh heavily this year. NYS mandated/oriented expenses are unchecked, yet NYS continues to constrain the sources of revenue in tight economic years.  Phil Zegarelli, the Village Manager feels that the biggest and more insane policy is NOT exempting Public Purpose Bonding (interest and principal) from the tax cap calculations. He maintains that, "Local governments are looking to upgrade aged infrastructure (water, roads and buildings which do create jobs) during a time of historically low interest/borrowing rates and very competitive bidding costs."
The Villages of Irvington and Tarrytown are dealing with the same mandated expenses as all other local municipal governments. Sleepy Hollow Administrator, Anthony Giaccio, noted specific State mandates that play a part in the 2014-2015 budget. They include expenditures for: Retirement, Unemployment, Disability, Workers' Comp, Medical Benefits, MTA Taxes, State Income Taxes, SEQRA (State Environmental Quality Review Act) and PERB  (Public Employee Relations Board) Arbitration.
Each stage of the budget process considers the many components and elements representing the best interests of the Villages. To the credit of all who help to create them, each annual budget developed for Briarcliff Manor, Irvington, Sleepy Hollow and Tarrytown reflects needs and priorities and serves as a positive force enhancing the quality of life for all residents.