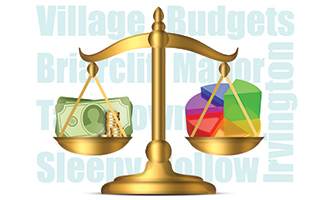 Tentative budgets have been drawn up and submitted. At public hearings held before April 20th, the public had an opportunity to offer comments or ask questions about the 2014-2015 budgets before they are adopted by May 1st.
The four Villages – Briarcliff Manor, Irvington, Sleepy Hollow and Tarrytown – have all addressed the revenues and expenses they anticipate needing in order to run their respective Villages for 2014-2015. The New York State Tax Cap, now in its third year, has changed the way budgets are crafted. Instead of determining what funds are required, village administrators have to calculate what revenue they have to work with and then prioritize the allocation of available funds. This is not an easy task.
Briarcliff Manor Village Manager, Phil Zegarelli, provided a letter to Mayor Vescio and the Members of the Board of Trustees regarding the 2014-2015 tentative budget, which he filed with the Village Clerk on March 19, 2014. In order for the Board to adopt the tentative budget, they will need to override the adjusted New York State mandated tax cap. The reason for this is clear. Public purpose bonding needed for necessary infrastructure projects is not excluded from the allowable tax levy formula and comprises $232,153 (86.9%) of the entire total. Phil cited a current 5-year project to correct a 301% water loss. Millions have been spent on new water mains, work that needed to be done resulting in saving half of the water loss that was costing residents a lot of money each year. Additionally, in Phil's address to the Board Members, a variety of budget items are explained and outlined. These include Assessment Rolls, Expense Reductions, Matching Revenues to Costs, The Water Fund and Water Rates and other Fund Reserves. All of these items have an affect positively or negatively on the proposed budget.  With thorough reviews and shared analysis, Phil states, "We are monitoring all of these variables and will be reviewing all trends and economic information."
A trend Mr. Zegarelli has noticed in Briarcliff Manor is the increased use of public services such as the Library and recreational facilities. He observed that residents rely on more local services in the current economy. With a weekly newsletter going out to residents every week, the Manager for Briarcliff Manor stays on top of issues and communicates them to the residents.
Irvington Mayor, Brian Smith, addressed a letter to residents regarding the 2014-2015 tentative budget. The letter stated, "In dollar terms, this year's tax levy is almost $286,000 below the allowable cap, bringing the total unused tax levy cap space over the past three years to nearly $650,000. Mr. Shopfer, Irvington Village Administrator, pointed out that 1.56% of that unused tax levy can be carried forward into the next year, adjusting the total levy. The current tax cap levy rate is set at 1.48%. In this letter to residents, expenditures of $295,000 from last year are itemized to clearly see where tax dollars are allocated. Revenues also increased over last year, up $105,000, reflecting a growth in sales tax, utility taxes, mortgage tax, and recreation program fees. $125,550 of contingency fund balance, the lowest amount since the 2008-2009 budget, can be applied to help offset taxes this year.
In Sleepy Hollow, Ken Wray also prepared a letter to residents regarding the tentative budget for fiscal year 2014-2015. The draft proposed tax increase is 10.86% for single-family homes. The letter states, " Over three quarters of our annual revenue is from Village taxes, and those taxes are based on the assessed value of local real estate." The Mayor looked forward to public input and further added, " In order for the Village Board to substantially reduce this tentative budget, it will mean a cut in certain services, which is why it is important that you share your opinion." The Board of Trustees of the Village of Sleepy Hollow called for a Public Hearing on April 8, 2014, at
7 p.m. to hear and consider comments from the public regarding the adoption of a local law authorizing the Village of Sleepy Hollow to override the property tax cap as mandated by General Municipal Law 3-C for the coming fiscal year. Hopefully Sleepy Hollow residents have been able to take advantage of this opportunity to participate in the budget process by attending meetings at the Village Hall on Tuesday evenings.
In his address to Mayor Fixell and the Board of Trustees, Tarrytown Village Administrator, Mike Blau stated, "In the calculation of the tax levy cap for fiscal year 2014-2015, a carry-forward from the fiscal year 2013-2014 increased the amount to be levied by the Village and remain within the property tax levy cap." Mike maintains that a home in Tarrytown with an average assessment of $15,600 "will see an increase of $165.21 over last year and still stay under the 1.48% tax cap (the amount that can be levied by a municipality) for the third year in a row." He further stated, "There are no significant changes in the 2014-2015 budget and the Village of Tarrytown will be able to maintain services and have no job losses." Mike did note two items that had an affect on the proposed tax rate. Debt service and capital costs fund balances that are required to stay within a certain level were drawn down and not available to be used in future budgets. A final amount of $113,881 from a Capital Cost Reserve Fund has been appropriated in the tentative budget, bringing the fund to $0. That, plus a loss in assessments were the major cost drivers that impact the proposed tax rate. The tax levy increase as proposed by this tentative budget is $4,859.00 – less than the tax levy cap amount allowed. With increases in expenses (appropriations) not offset by a reduction in revenues, this is a great accomplishment.
Westchester County has the highest in property tax rates in the US. According to a report from the bipartisan New York State Tax Relief Commission (http://cutpropertytaxes.ny.gov/the-plan), "The cause for high property taxes in New York lies with 10,500 local governments – not just counties, cities, towns, and school districts. We (NY) have thousands of drainage districts, refuse and garbage districts, lighting districts – each its individual, overlapping taxing entity."
An alternate viewpoint written by E.J. McMahon, President of the independent think tank, Empire Center for Public Policy (http://www.empirecenter.org) questions, "Why do New York governors and legislators in both parties continue to offer expensive painkillers instead of real, cost-free cures for high property taxes? Because they're unwilling to attack the main problem, which is unfunded State mandates — especially collective-bargaining laws that force public-employees to pay at unsustainable levels. Until that changes, New Yorkers can expect more stars in their eyes."
Briarcliff Manor Village Manager, Phil Zegarelli, had strong opinions about the current tax cap and the assertion that excessive government entities are to blame for the high property taxes in New York State.  He made several important points. He felt that the cap on revenues was imposed without addressing the rampant increases that are under NY State control – retirement benefits, health insurance, etc. He feels that the tax levy cap is counterproductive to sound government. He knows what it takes to put together a budget and understands that local governments have the most direct relationship with taxpayers.
Mr. Zegarelli doesn't believe that government districts are to blame for high property taxes. On the contrary, he pointed out that these districts were created to provide services to the communities that otherwise would not be available. He feels that it would be very important to exempt the cost of public purpose bonding, i.e. repairs and improvements, from the current tax cap requirements. He noted that, "This is an era when bonding should be taken advantage of to benefit the community. Interest rates are currently low. It makes for more efficient government and should not be tied into the tax cap requirements." To paraphrase, "With current regulation, bonding for public purpose projects becomes a penalty rather than a benefit to the community at a time when interest rates are low and there is competitive bidding for projects that hire local residents."  Mr. Zegarelli added, "These large projects make sense at the moment when factors are favorable and promote local jobs."
Larry Shopfer, Village Administrator of Irvington, found it's hard to disagree with either statement.  He said, "Living in a state like Connecticut, where there is no county government, New York looks unnecessarily complicated." He concedes however that regarding unfunded mandates, many local mayors and supervisors have been clamoring for many years about unfunded mandates. They fully support the New York Conference of Mayors' (NYCOM — www.nycom.org) efforts to lobby for relief from these mandates.  "There has only been modest progress on this front," he added.
Regarding overlapping government, Larry considered that the County is an easy target, but personally finds the town/village relationship to be rather unnecessary in terms of overlapping government entities.
Elaborating on the recently approved NY State budget which includes a freeze on property taxes for residents, Larry notes, "The first year of the 'freeze' is keyed on fiscal years beginning in 2015, so what the Village of Irvington chooses to do in 2014-15 in terms of complying with the tax cap has no affect on whether our residents will be eligible for their first rebate check."  He added, "Not withstanding, the Irvington Board intends to remain within the cap and will not override this year for the upcoming budget. While this budget will not be affected by the new State requirements, future budget planning may be impacted to the extent that the Village develops and participates in one or more efficiency plans resulting in cost savings."
Addressing the issue of the property tax freeze, Mike Blau also pointed out that that the freeze will have an impact on local school budgets this year but will not affect Village budgets until 2015.
Mike Blau, Village Administrator for Tarrytown, also felt that the assertion of the NY State Tax Relief Coalition was unjustified in blaming the high property taxes on 10,500 districts in New York State. He felt that many of these districts are set up to address specific local needs and many are not taxing districts in any case. Mr. Blau more favorably agrees with the second statement that cited unfunded mandates as the primary cause of higher tax levies in New York. With plans to unveil the 2014-2015 Tarrytown budget at the time of this writing, Mr. Blau had the concern that a large percentage of budget dollars are out of the control of local municipalities.