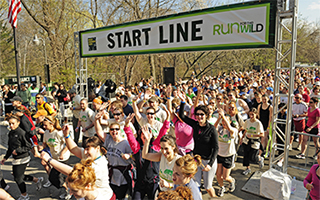 The Wildlife Conservation Society is dedicating the 6th annual Run for the Wild to saving elephants from the worst poaching crisis in two decades.  Wildlife supporters, runners, and walkers are all invited to participate in the annual 5k run and family fun run at WCS's Bronx Zoo to raise funds to support the recently launched 96 Elephants Campaign. 96 Elephants is working to: secure moratoria on the sale of ivory; bolster protection of African elephants; and educate the public about the link between ivory consumption and the elephant poaching crisis. The sixth annual 5k-run/walk takes place on Saturday, April 26. Since its inception in 2009, 30,000 people have participated and $3.5m has been raised through donations, registration and sponsorship. Each year, WCS's Run for the Wild is dedicated to saving a different species. Past years have supported WCS's work to save gorillas, tigers, lions, penguins, and elephants. Due to the magnitude of the elephant poaching crisis in Africa, this year's Run for the Wild participants will again be making tracks for elephants.
"This is the first time the WCS Run for the Wild has been dedicated to the same species two years in a row," said John Calvelli, WCS Executive Vice President of Public Affairs and Director of the 96 Elephants Campaign. "The decision to tie this year's event to the 96 Elephants campaign was made out of necessity. The campaign is making great strides toward realization of its goal of eliminating the demand for ivory, but the work is not done and elephants are still being poached at an unprecedented rate."
The campaign has already achieved initial success with the recent federal ivory ban enacted by the Obama Administration. This is a first step in stopping trade into the U.S.  However, state moratoria are still needed to close potential loopholes not covered in the federal ban.  New York State recently introduced legislation to enact a ban.
Said Calvelli: "By registering for the WCS Run for the Wild, supporting a runner or a team, or making a donation, everyone participating will be helping WCS make real progress in the fight to save these majestic animals from the slaughter they are confronted with daily."
WCS's Run for the Wild registration is now open at www.wcsrunforthewild.org. The event is expected to sell out and participants are encouraged to sign-up early.
Registration for the run is $40 for adults, $30 for children (3–15), and $30 for seniors (65+). Participants are encouraged to seek individual sponsors for their run, and all adult (and senior) participants are required to raise a minimum of at least $30 in order to participate. All donations will go directly to WCS elephant conservation programs. The price of registration includes parking and general admission to the Bronx Zoo following the event. (Total Experience Ticket upgrade is available on site.)
Participants can choose from two different events. The 5k run for individual runners will begin at 8:00 a.m.; casual runners and walkers can take part in the Family Fun Run/Walk at 8:45 a.m.
After the run, everyone is encouraged to stay and enjoy the zoo and its animal residents for the rest of the day. Everyone is encouraged to visit the Bronx Zoo's famous Wild Asia Monorail where they can see Asian elephants, tigers, rhinos, and many other Asian species. There are many other exhibits to visit including Tiger Mountain, Madagascar!, Congo Gorilla Forest, and JungleWorld.
Prizes will be awarded to those who meet various fundraising goals. For $30 in pledges, runners will earn a WCS Run for the Wild T-shirt; $60 earns an elephant plush; $125 earns a coffee tumbler; $275 earns an umbrella; $600 earns a backpack; $1,500 earns a hooded sweatshirt plus a VIP breakfast. Each incentive level achieved includes all prizes from the levels below.
The 96 Elephants campaign:
Bolsters elephant protection in the wild by increasing support for park guards, intelligence networks, and government operations in the last great protected areas for elephants throughout the Congo Basin and East Africa.
Funds high-tech tools in the field ranging from drones and sophisticated remote cameras that track poachers in real-time, to specially trained sniffer dogs to find smuggled ivory in ports and trading hubs.
Engages the public through a series of actions including online petitions and letter writing campaigns enhanced through social media to support a U.S. moratorium, increase funding, and spread the word about demand and consumption of ivory. 96 Elephants will educate public audiences about the link between the purchase of ivory products and the elephant poaching crisis, and support global moratoria and other policies that protect elephants.
96 Elephants dovetails with the Clinton Global Initiative plan: "Partnership to Save Africa's Elephants," which includes other NGO partners and nation leaders. Leaders from 11 African nations are calling for other countries to adopt trade moratoria on all commercial ivory imports, exports and domestic sales of ivory products until African elephant populations are no longer threatened by poaching. The partnership focuses on stopping the killing through increases in enforcement and improved management at 48 sites across Africa that contain two thirds of the continents' elephant population.
To learn more about the elephant crisis and how to help eradicate the demand for ivory, visit www.96elephants.org.
WCS Run for the Wild is made possible by these generous sponsors:
Presented by:                         Con Edison
Featured Sponsor:                Montefiore Medical Center
Supporting Sponsors:           IKEA; Empire BlueCross BlueShield; Monroe College; Hard Rock Cafe
Media Partners:                    ABC 7; Z100
Promotional Partners:          The Belmont Business Improvement District
The Wildlife Conservation Society's Bronx Zoo is open daily from 10:00 a.m. to 5:00 p.m. weekdays, 5:30 p.m. weekends from April to October; 10:00 a.m. to 4:30 p.m November to March. Adult admission is $16.95, children (3-12 years old) $11.95, children under 3 are free, seniors (65+) are $14.95. Parking is $14 for cars and $16 for buses. The Bronx Zoo is conveniently located off the Bronx River Parkway at Exit 6; by train via the #2 or #5 or by bus via the #9, #12, #19, #22, MetroNorth, or BxM11 Express Bus service (from Manhattan that stops just outside the gate.) To plan your trip, visit bronxzoo.com or call 718-367-1010.
96 Elephants
WCS is leading global efforts to save Africa's elephants and end the current poaching and ivory trafficking crisis. In September, WCS launched its 96 Elephants campaign (www.96elephants.org) to amplify and support the Clinton Global Initiative (CGI) "Partnership to Save Africa's Elephants" by stopping the killing, stopping the trafficking, and stopping the demand. The WCS campaign focuses on: securing effective moratoria on domestic sales of ivory; bolstering elephant protection; and educating the public about the link between ivory consumption and the elephant poaching crisis.
Wildlife Conservation Society (WCS)
MISSION: WCS saves wildlife and wild places worldwide through science, conservation action, education, and inspiring people to value nature. VISION: WCS envisions a world where wildlife thrives in healthy lands and seas, valued by societies that embrace and benefit from the diversity and integrity of life on earth. To achieve our mission, WCS, based at the Bronx Zoo, harnesses the power of its Global Conservation Program in more than 60 nations and in all the world's oceans and its five wildlife parks in New York City,  visited by 4 million people annually. WCS combines its expertise in the field, zoos, and aquarium to achieve its conservation mission.
Visit: www.wcs.org; http://www.facebook.com/TheWCS; http://www.youtube.com/user/WCSMedia Follow: @thewcs.
To make donations in support of helping save wildlife and wild places, please visit www.wcs.org.