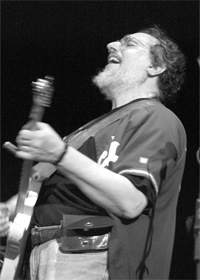 David Bromberg
Three events at the Music Hall within a month will feature local performers. First, the Fred Astaire Dance Studio's annual ballroom showcase on January 28, called Mystery Theater, promises to keep audiences in suspense when both amateur and professional ballroom dancers, many from Tarrytown and Sleepy Hollow, will be whisked from partner to partner.
Created by Sasha and Olga Bylim, the showcase is in its third year. Then 70 children from the tri-state area, all younger than 25 and under the direction of producer, choreographer, and director Anya Wallach, will burst into song with "The Prince Is Having A Ball" in Random Farm Kids' Theater production of Cinderella from February 3-12. Tarrytown's own Athena Hantzaridis is a cast member.

Perhaps the greatest highlight of the month for many will be David Bromberg's concert on February 9. Born in Philadelphia and raised on Highland Avenue in Tarrytown David attended the Tarrytown public schools, graduating from Sleepy Hollow High School in 1963 (with River Journal publisher Robert Bonvento, no less). Throughout his youth, he attended movies at the Music Hall and remembers his parents taking him to see The Wind in the Willows when he was very small. He also enjoyed Errol Flynn in Robin Hood, Humphrey Bogart in The African Queen and many other films. In a recent interview, David said, "I only saw the movie screen. Who knew there was a real stage behind it on which performers had walked!" David was soon to be at the center of this stage as the one of the world's foremost performing artists.

Thom Wolke and Gene Tullio of Twin Cloud Concerts presented David's very first concert at the Music Hall in February of 1987. With his parents sitting in the first row, David was ceremoniously presented with the "keys" to the village and the Music Hall by Tarrytown mayor Peter F. Barbella, Sr. and Twin Cloud Concerts respectively. Later in the evening, David invited to the stage a person whom he had found to be incredibly inspirational in his life — Harold Fox. A music teacher at Washington Irving Middle School, Harold thought of David as a " great, fun, and talented kid to have in class, who not only had a gift for music, but could also keep crowds entertained with magic tricks." On this night, they improvised their way through several tunes together in front of a sold out house, Harold on his flugelhorn and David on his guitar.

A performer, writer, and arranger, Bromberg's remarkable musical versatility and innovative resourcefulness have earned him vast popular and critical acclaim. First introduced to the guitar at the age of thirteen, David is also proficient on the mandolin, fiddle, and bass, and his music, rooted in his blues, country, jazz, folk, and classical backgrounds, is singular. The New York Times wrote, "He has such control of his audience that he can, at one moment, hold it in his hand with a tender, touching yet funny anecdotal song, and then set it romping and stomping with a raucous bit of raunch. He is electrifying."

David's achievements are so many, that a book would be more appropriate than an article. But to sum it up, with music as his calling, he followed many paths. Soon after graduating from high school, he was an in-demand session man for such artists as Bob Dylan, Ringo Starr, John Hurt, the Reverend Gary Davis, Tom Paxton, and Chubby Checker, totaling over 100 albums. In 1970, he started touring as a headliner and released many of his own CDs, the first of which included George Harrison and Bob Dylan. His very first gig outside of New York under his own name was at the Folk Music Society of Northern New Jersey where he met his future wife, musician and visual artist Nancy Josephson. They were married in David's backyard in Tarrytown and Steve Burgh, his first bassist, led the band.

After many years of performing and recording, David eventually relocated to Chicago and quit his performing and recording career. " It wasn't so much that it was terrible," said David of the touring life, "but it took me away from my family. And when you're traveling between cities there's so much unproductive time — it's like you're dead. The main thing is that I want it to be fun — for me, the musicians, the audience, everybody." He found his passion for music through other avenues. In 1984, he graduated from the Kenneth Warren School of Violin Making with a degree in violin making. And then he and his family were invited to Wilmington, Delaware where the city offered him a building for free in exchange for his promise to help rejuvenate the arts in the downtown. "I could see that the town was a mess, but I could also see that it was trying not to be," David recalls. He opened up a retail violin shop specializing in sales and repair as well as bow and violin making and has become a very well-respected dealer in classical violins, with a collection of American instruments so impressive, that a small fraction of his collection — about 40 instruments — were exhibited at the Smithsonian. He also keeps busy by occasionally touring, curating a series of shows each year at the Wilmington Opera House, and jamming at the funky 4W5. The jams draw crowds from all over. David has used his "keys" to Tarrytown and the Music Hall well, having performed at the theater every year since 1987 with only a three year break. Not only has he played with the Big Band, but he has also made several acoustic solo appearances, particularly with Hot Tuna, Jay Ungar, and as a special guest at Twin Cloud Concert's 10th anniversary. At times, members of his family have joined him onstage including his son and his sister-in-law.

David's followers know good music when they hear it and return year after year to the point that many of them are on a first name basis with the box office. Some of his greatest fans are former classmates from high school. And that brings us back to the "keys." David was given the key to the Village and the Music Hall in 1987, but he made a third key on his own — a key to people's hearts. "When David comes to town, you know it's going to be a great night," says Gene Tullio. Brilliant is the word Thom uses for him. Thank you, David, for coming to Tarrytown and sharing your glorious music.