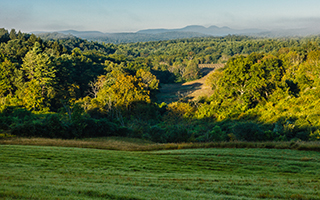 Scenic Hudson has been recognized again for meeting the highest standards in its work to preserve land for public benefit. Recently the Poughkeepsie-based land preservation and environmental group was awarded renewed accreditation status by the Land Trust Accreditation Commission, an independent commission launched by The Land Trust Alliance (LTA), a national land preservation advocacy group.
At right, Property recently protected by Scenic Hudson in New Baltimore, Greene County, conserves scenic meadows and woodlands in foreground of magnificent Catskill Mountain views. (photo: Robert Rodriguez, Jr. / Scenic Hudson)
In 2008 Scenic Hudson was one of the first 39 organizations in the U.S. to meet national accreditation standards for forever protecting important natural places and working agricultural lands. Motivated to maintain best practices in its work, Scenic Hudson again voluntarily participated in a rigorous review to earn renewed accreditation from the Accreditation Commission. Scenic Hudson now stands as one of 254 land trusts from across the country to have earned this important benchmark for performance and credibility.
"It's a great honor to receive this 'golden seal' of professionalism, granted to Scenic Hudson based upon our 50-year track record of preserving the valley's special natural resources," said Scenic Hudson President Ned Sullivan. "We know the work is important because we're protecting vital lands and providing places all along the Hudson River for people to experience nature. We're also enhancing local family farms that provide healthy, local food. Working with a host of partners, Scenic Hudson is helping contribute to the region's quality of life and economic opportunity."
Steve Rosenberg, executive director of The Scenic Hudson Land Trust, who oversees the group's land preservation and parks initiatives, stated that the accreditation effort strengthens Scenic Hudson. "This kind of intensive audit is similar to what hospitals, universities and other institutions with accreditation programs do. It's a way of demonstrating that Scenic Hudson is worthy of public trust."
Scenic Hudson's track record
To date Scenic Hudson has conserved more than 30,000 acres, including more than 12,000 agricultural acres on 84 family farms. The group also has created or enhanced 60 parks, preserves and historic sites up and down the Hudson River.
Land preservation boosts economic opportunity, environmental health
Scenic Hudson pursues its campaign to Save the Land That Matters Most realizing that preserving land provides the cornerstone of a sustainable Hudson Valley economy. Tourism in the 10-county region generates $4.3 billion in spending annually and sustains 80,000 jobs. Protected lands also help grow other parts of the economy. A study by the Trust for Public Land notes that executives looking to relocate or start firms rank quality of life—including an abundance of parks and open space—higher than housing, cost of living and good schools.
Conserved land helps ensure clean drinking water and healthy air. Helping preserve working farms provides healthy produce, supports food security and keeps economies of rural communities energized. Safeguarding forests reduces climate change, protects wildlife habitat and contributes to a healthy ecosystem.
About the Land Trust Accreditation Commission
The Land Trust Accreditation Commission, based in Saratoga Springs, N.Y., inspires excellence, promotes public trust and ensures permanence in the conservation of open lands by recognizing land trust organizations that meet rigorous quality standards and that strive for continuous improvement. The commission, established in 2006 as an independent program of the Land Trust Alliance, is governed by a volunteer board of diverse land conservation and nonprofit management experts from around the country. See a complete list of all recently accredited land trusts online at http://www.landtrustaccreditation.org/newsroom/press-releases. More information on the accreditation program is available on the commission's website, www.landtrustaccreditation.org.
About Scenic Hudson
Scenic Hudson works to protect and restore the Hudson River and its majestic landscape as an irreplaceable national treasure and a vital resource for residents and visitors. A crusader for the valley since 1963, we are credited with saving fabled Storm King Mountain from a destructive industrial project and launching the modern grass-roots environmental movement. Today with more than 25,000 ardent supporters, we are the largest environmental group focused on the Hudson River Valley. Our team of experts combines land acquisition, support for agriculture, citizen-based advocacy and sophisticated planning tools to create environmentally healthy communities, champion smart economic growth, open up riverfronts to the public and preserve the valley's inspiring beauty and natural resources. To date Scenic Hudson has created or enhanced more than 60 parks, preserves and historic sites up and down the Hudson River and conserved over 30,000 acres. www.scenichudson.org and www.sh50.org