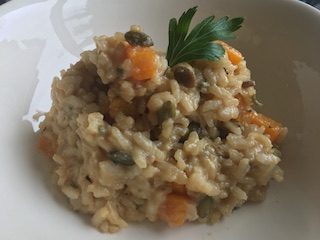 Autumn is finally upon us, bringing a bounty of beautiful squashes, apples and other tasty seasonal products. While these products may be available at the supermarket year round they certainly do not taste as good as they do right now in their peak season. This recipe is great as it incorporates one of my favorite squash varieties (butternut squash) and one of my beloved Italian classics (risotto) into one knockout dish. What could be better on a chilly fall day then a piping hot bowl of creamy butternut squash risotto, perfumed with fall herbs and brimming with crunchy pumpkin seeds.
Roasted Butternut Squash Risotto… With Toasted Pepitas
Prep Time: 30 minutes
Cook Time: 30-45 minutes Yield: 3 Servings
Ingredients:
1 Tablespoon Olive Oil
½ cup Onion, small diced
1 teaspoon Garlic, minced
1 cup Arborio Rice
¼ cup White Wine
3-4 cups Chicken Stock, simmering
2 sprigs Rosemary, finely chopped
4 Sage leaves, finely chopped
2 cups Butternut Squash, peeled and small diced
½ cup Toasted Pepitas
½ cup Parmigiano Reggiano Cheese, grated
Salt and Black pepper to taste
Method of Preparation:
1. In a medium-sized sauce pan heat olive oil over medium flame. Add onion and garlic and cook until translucent.
2. Next add the rice and stir it around to coat each grain with oil for about 1 minute. Then add the white wine and allow it to simmer.
3. Once the wine has cooked (evaporated) off add about 1 cup of the simmering chicken stock and stir the rice. When the rice has absorbed the first addition of stock add another 1 cup. Continue adding stock in increments until the risotto is creamy and the rice is al dente or softer if you prefer. Set aside.
4. Line a sheet pan with aluminum foil and spray with oil. Place the butternut squash on the tray and sprinkle with herbs, salt, and pepper. Roast in a 375-degree (F) oven for approximately 15-20 minutes or until the squash is fork tender.
5. Add squash, pepitas and cheese to risotto and stir to combine. Taste and adjust seasoning accordingly.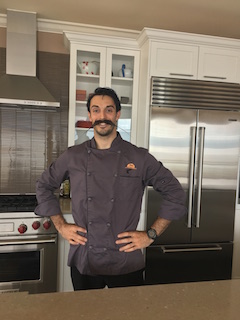 Lucio C. Battista is a graduate of Johnson and Wales University with a Bachelor's in Culinary Nutrition and a Master of Arts in Teaching. He can be found cooking in kitchens all over Westchester County as a personal chef and can be reached at lbattista9823@optimum.net.