A new book by Henry John Steiner (Sleepy Hollow's Village Historian) is sure to appeal to history buffs, collectors, and anyone interested in classic photographs of the Hudson River Valley.  Historical Photos of the Hudson Line, just released by Turner Publishing of Nashville, Tennessee, is a visual chronicle of the rise of the Hudson River communities between Manhattan and Albany, from 1850 to 1970.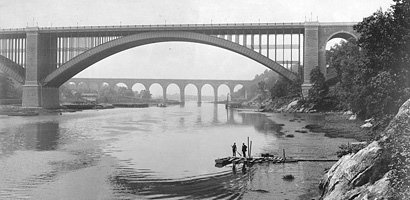 The book contains a rich selection of rare photographs from the Library of Congress, the New York Public Library, and the New York State Archives graphically illustrating the progress of the river towns.  The pictures are accompanied by Steiner's informed commentary.  Tarrytown and Sleepy Hollow are represented in early photos as are many other communities bordering the Hudson.
Said Steiner, who introduces each of the photos, "This project was a very stimulating learning experience.  As an experienced photographer, I was just amazed at the quality of most of these historic photos and their ability to transport the viewer to a familiar place at a much different time.  There is a wonderful picture of people milling through Grand Central Terminal in the 1940's that really evokes a real instant in another era.  The shot of State Street in Albany, decked out for Lincoln's funeral procession, is another image that brings history to life.  Even the shot of the old, stone Sleepy Hollow Bridge from the late 1800s, shows a subject that is rarely seen in photographs."
Manhattan, the Bronx, Yonkers, Ossining, Peekskill, and many more communities are represented.  The reader will be intrigued by the high-quality, large-format photos of such subjects as ski jumping at Rockwood Hall in Sleepy Hollow and Herrick's Folly (the old Castle School building) in Tarrytown, among many others.  There are suffragettes campaigning in Yonkers and steamships passing the Hudson Highlands, as well as remarkable photos documenting the transformation of the Harlem River from country setting to industrial landscape.
The behind-the-scenes stars of this volume are America's early photographers such as William Henry Jackson and Berenice Abbott, and the geniuses of American engineering such as railroad designer, John B. Jervis, and aviator, Glenn Curtiss.  The book features approximately 200 rare, black and white photos.  Historic Photos of the Hudson Line is available through local bookstores, Barnes & Noble, and Amazon.  The volume is list-priced at $39.95