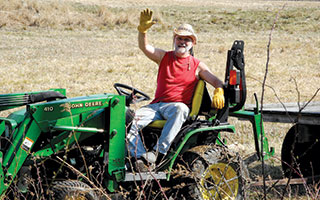 "I've had organic chickens before but these were hands down, by far, the best-tasting roasted chickens I have ever had. The chicken soup I made the next day was equally as flavorful." — Kathy B. resident of Tarrytown.
Right, the author at Carlton Farms
"It takes a tough man to make a tender chicken," said Frank Perdue, starring in his own TV commercials a few years back. No doubt Frank knew everything there was to know about mass-produced chickens.
But there's more, much more, to producing a chicken worthy of the praise heaped on the Carlton Farms chicken Kathy, a Tarrytown resident, recently enjoyed. The chicken she ate was as different from mass-produced chicken as home-grown heritage tomatoes are from mass-produced supermarket tomatoes.
True enough, commercial agriculture produces cheap food. But the quest for maximum growth at minimum cost has also cheapened some foods to the point where nutrition and flavor and animal welfare are compromised. No surprise that consumers are responding by turning to organic, biodynamic (a spiritual-ethical-ecological approach to agriculture), and nutrition. Locally-grown foods, and producers like Carlton Farms are responding with delicious, healthy products, starting with our chickens.
The story behind Kathy's flavorful and juicy chickens starts with the chicks' arrival at the local Post Office. Hungry and thirsty from an overnight trip from the hatchery on a USPS truck, they are very cute, but a few hundred make quite a noise.
These certified organic chicks are the cream of the crop, bred not for eggs but for the dining table. My partner in the chicken enterprise, Jennie Clifford, must quickly heed the early morning postmaster's plea to "pick up the noisy things."
Once released in the barn they crowd around their feeders and waterers, peeping and jostling until they get their fill. After that they relax and enjoy their new surroundings.
For the next nine to twelve weeks they put on the pounds, providing endless entertainment for neighboring children – adults, too – with their comical antics. Chicks and chickens are fascinating to watch as they dart here and there, roosting, scratching, and just doing what comes naturally.
They get the best of care and a carefree life living on luscious green pasture with all the food, sunshine, water, and space a chicken could ask for. No cages, no crowding, just fresh air and vast pasture.
Supporting this chicken lifestyle is quite a challenge physically and financially. The chickens are content, but the farmer's life is anything but relaxing. And it is much different than my former life in Tarrytown where I never gave a thought to what it takes to grow a tasty chicken.
Raising a certified organic chicken is no small feat. USDA regulations are detailed and thorough. Only certified organic feed is permitted. No antibiotics of any kind are allowed. Fortunately, Jennie is expert at all the organic and biodynamic certifications. She is an inspector herself and really knows her business.
To what's required by the USDA, we add our own kindnesses. Plenty of room to roam. Acres of lush, certified organic and biodynamic pasture. Shelter and heat lamps for chilly nights.
The birds themselves are breeds you won't find in the supermarket. Ours are bred more for quality and taste. People tell us they are more like what they remember chicken tasting like when they were kids.
Carlton Farms is a 7th generation farmstead, originally settled and built by Jennie's family. For some years now it sat restless, unable to function economically. Still in its early stages of coming back to life as an operational farm, both Jennie and I are careful to keep our "day jobs." But we are determined to make the farm economically viable.
If this year's experience is an example, that won't be easy. Last summer's drought lifted feed prices through the roof. Predators such as raccoons proved to be wily and hard to discourage. Even Havaheart traps were no match for them. Set to catch raccoon intruders all summer, we caught just one inexperienced baby skunk.
One night the hooting of an owl – rather loud in the ordinarily silent country night, awakened us. Jennie said, " Let's get up, we have to scare the owl away before it eats our birds." I dressed quickly and made my way to the center of the chicken's pasture realizing I had no idea how to scare an owl away. As it turned out neither did Jennie. Fortunately, not much damage was done.
To support our farming ambitions we are trying our hand at several enterprises. Our sheep will have lambs by March. Our rye and winter wheat, which are certified organic and certified biodynamic will be harvested this year. Jennie mixes organic herbs and flowers grown on the farm with either Himalayan, Hawaiian, or French salts to create delightful certified organic and biodynamic finishing salts that are proving popular with salt aficionados and as gifts. Then there are the greenhouses where we extend the growing season for all variety of vegetables.
I have been involved with businesses of all types in my career, but farming is by far the most challenging. More than a business, it is a lifestyle and the seamless merging of work, family, play and learning. That included discovery of the agrarian "clock"… up at dawn and in bed at dusk – yes, dusk,since often I couldn't stay awake until it was really dark, even with a 2-3 hour break during the hottest part of the day.
Ultimate payoff came to me one morning when I walked out the door feeling tired from the day before and not quite ready to tackle the hard work ahead. I was tired, but felt no stress because all I was going to do was the work in front of me. No boss, no productivity goals other than those I set myself as the day progressed. A beautiful freedom that makes it all worthwhile.
[blockquote class=blue]Richard Cross and Jennifer Clifford operate Carlton Farms and can be reached at info@CarltonFarms.net.[/blockquote]