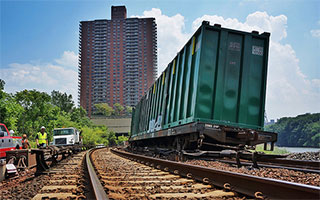 Metro-North and CSX workers continue efforts to remove 10 freight cars that derailed last evening while service on the Hudson Line continues to operate between Poughkeepsie and Yonkers with a bus connection to the subway for service in and out of Manhattan.
This arrangement will continue through Friday evening and all weekend to give railroad forces free and unimpeded access to the damaged tracks Thursday's freight train derailment in the vicinity of Spuyten Duyvil station.
At right, photo of freight derailment recovery. Photo courtesy of MTA Photos.
"With three days, we believe Metro-North forces will be able to clear the wreck, rebuild the infrastructure and test all systems in time to provide regular train service come Monday morning," said Metro-North President Howard Permut.  "Our crews have been working hard in very difficult conditions – around the clock in blazing heat and humidity.  They deserve high praise and gratitude."
This weekend, limited Hudson Line service will operate between Poughkeepsie and Yonkers stations, including hourly service through this weekend (Sat., July 20 & Sun., July 21). Customers are strongly recommended to make alternate service plans.
Customers can use the Harlem Line and Hudson Line tickets will be honored on the Harlem Line.
For southbound service, limited train service will operate between Poughkeepsie and Yonkers stations only and connect with shuttle bus service to Van Cortlandt Park-242 Street for No. 1 Subway service into Manhattan.
For northbound service between Yonkers and Poughkeepsie stations only, customers should take the S Shuttle from Grand Central to Times Square for No. 1 Subway Service to Van Cortlandt Park-242 Street. Bus service will operate to Yonkers Station and connect with limited train service to Poughkeepsie.
Special schedules to/from Yonkers and Poughkeepsie stations are posted on the schedules page and mta.info/mnr
Customers at stations between Riverdale and Yankees-E.153rd Street stations are urged to use NYCT subway and/or bus service. Ludlow customers should use Yonkers Station.
Free subway transfers will be provided. Customers should listen for station announcements and continue to check the news media and the MTA website for updates.
Photos of the clean-up are available at MTA's Flickr page:  http://www.flickr.com/photos/mtaphotos
Videos are available at MTA's Youtube page: https://www.youtube.com/watch?v=Xopv-EQqJjg